Routes + Routines is my sketch weblog that serves mainly to collect thoughts, pictures, clippings on the relation between the way cities are conceived and built and how they are used in daily life.
Also, but I have to admit not too frequently, this is where I post ideas for installations and documentation of performances that in a more finished form could, and sometimes do, end up on this site.

These instructions for three performative urban exercises that were carried out with students of the Media design course at the KHLIM in Genk however can only be consulted on Routes + Routines.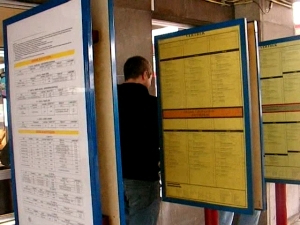 Click above image to see short clip.
While walking through the station you are listening to a recording of a walk through a park. (Download here; mp3, 12mb ) The paste of the walk you are hearing is steady and unbroken. Play the sound loud, step into the rhythm, and don't stop until the file ends.